Mrinal Dutt
Portfolio:
All illustrations, pen art, contemporary painting, Realistic painting, mix media works using different mediums.
Overview:
Mrinal Dutt, a 25-year-old young talented artist basically an electrical engineer who turned into a professional artist. He is from Ahmadabad, India. He is an inspiration to all youngsters who take a risk and do well in their own field. As being an engineer he gives equal Justice to both fields. Attributably he is a well-known artist who is specialized in all media. Most important notification is that he is a Self-taught artist. His inspiration is Sir MF Hussain.
Early life stages:
He completed his schooling from Asia English School and achieved graduation degree from Kalol Institute of Technology. He loved drawing since his childhood days. Though his family didn't permitted him to choose arts field, but no one can stop him as he is born to be an artist a God gifted talent. In his early life stages he was experimenting and practicing on different mediums. He tried putting 90% of his imagination on paper.
Hobby:
As a person he is having lots of hobby in various fields other than art. Hobbies are like collecting ancient and modern Indian coins and currencies. For that he has got a recognition from Reserve Bank of India. He has a great knowledge on coinage of India. He loves wildlife adventures; crazy about riding a bikes. Moreover he is very respectful towards women and animals and also a very down to earth person. After getting ample popularity he has many fan following across the globe. He listens and admire soft music. And also worked with wildlife conservation and started actual career in a private firm in 2013. He like to live simple in his life always.
Lifestyle:
After his office hours he carries time towards his art works and He love to get relax with art.
Training:
He is a self-taught artist, started his journey with learning simple sketches. By sitting over somewhere; he tried to make sketches and put his imagination into it. Although being a self-taught artist he perfected his art and mastered in art field. He like to arrange thoughts on canvas. He quotes and believes" being an artist we have a power to see the world differently".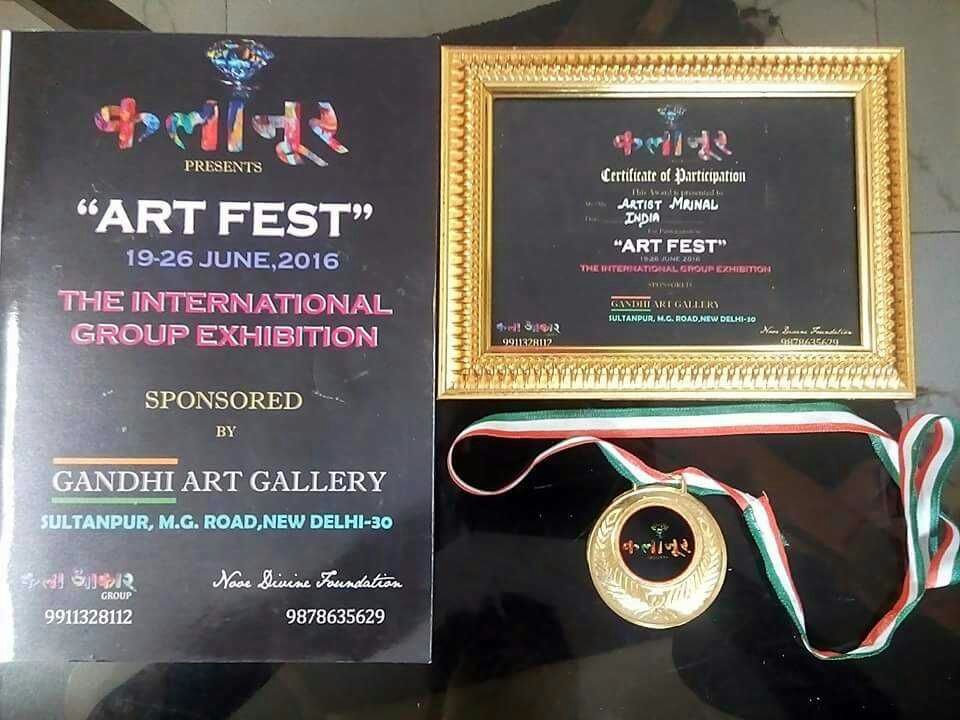 Approach:
Sketching is everything to Mrinal. In terms of colors he like black color most. He is inspired from day to day life and draws many paintings of architecture, abstract. Mrinal portrays his imagination through various mediums. His playful approach and quickly execute. His graphics illustrations in which black lines are added to the soft watercolors, really gives an impressions to the images in some definitions.
Style and techniques:
Mrinal works on all styles and techniques he don't have special techniques. But he loves to draw with pen and Graphic illustrations. Ranging from a loose sketch to a complex layout he illustrates any idea in the shortest time and quite often at the spot in workshops and exhibitions. He loves line scribbling to fine illustrations. He loves elegance, clear lines and then the sudden and visible movement. He works successfully in the field of painting in different types like contemporary and conceptual, landscape, etc. His acrylic paintings appears so real just gives the feel of watercolor and extremely realistic look. Around 900 of his paintings profiled on internet. His techniques are being followed by much young artist. Mrinal loves to make his own creation and abstract paintings.
Achievements:
Art ellipse international art award December 2015(2nd on the merit)

Noble peace artist award

Sketch and lines of India gave him the title of excellent artist

International art magazine had published his article on colored canvas art magazine.

His paintings on Indian art ideas and also a selected artist of Indian art Ideas.

He got a chance to display his work in a Paris group show, India art Delhi, Berlin art expo.

An official selected artist of Samara art Gallery by Sonal Ambani (Ahmedabad).

His paintings are printed on Indian saree by designer Aavanya collection of Hyderabad.

His art article were been published in DNA, Ahmedabad Mirror, The Times of India as well as on Pakistani newspaper.

Sparkle solo show was held at L.P. Hutheesing visual art gallery, CEPT university Ahmedabad on June 15th 2015.
Solo show was held at gallery Samara art gallery, Ahmedabad on 30th march 2016

His life story about art was been covered by story mirror art group in USA 2015 and 2016.

Kala aakar group and Lalit kala academy honored him with gold medal for Art fest 2016 New Delhi.
Quotes by Mrinal Dutt:
"I paint and sketch my dream which people call it Art."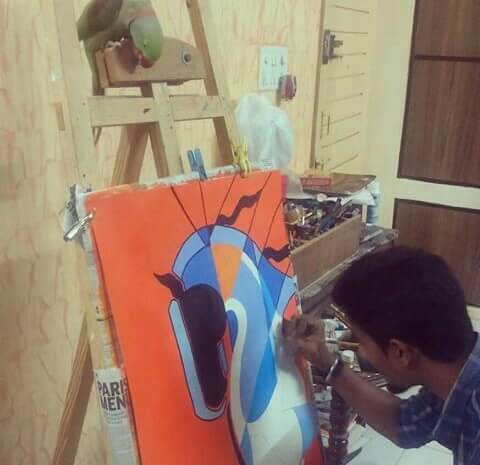 Conclusion
After so many struggle and hard work we cross all the hurdles in the life. "Strength comes from struggle and criticism". When you learn to see your struggles as opportunities it becomes stronger, better, wiser. Trust on you is best remedy to get a success in life. He is an inspirational young artist in true sense.